Regular price
$239.00 USD
Regular price
$299.00 USD
Sale price
$239.00 USD
Unit price
per
Sale
Sold out
Jackery was founded in Silicon Valley in 2012. With state-of-the-art R&D and manufacturing expertise, Jackery launched the first Lithium Portable Power Station in 2015. As an industry leader in portable power, Jackery specialized in providing outdoor green power solutions for explorers.
Off-grid Solar Generator, Green and Clean Power Supply Preparing Your Solar Generator
1 SolarSaga 100W solar panel can quickly charge The Explorer 550/290(not included) within 8/5 hours
Solar recharging steps: 
1.Find the DC interface on the back of Solar Saga 100;
Connect DC interface with the DC input of Explorer 550/290
2 SolarSaga 100W solar panels can quickly charge the Explorer 880(not included) within 7 hours by connecting together with a Solar Saga Y Parallel Cable (package not included)
Solar recharging steps: 
1.Find the DC interface on the back of Solar  Saga 100;
2.Connect the DC interfaces of 2*SolarSaga 100 with the Y Parallel Cable;
Connect the Y Parallel Cable with the Anderson input of Explorer 880
Tips: 1. Recharging time varies from different location, temperature, weather etc. The actual time may be different.
Keep your portable power station away from heat and direct sunlight in order to extend its life span.
Package Content:
1 SolarSaga 100

1 User manual
FEATURES
QUIET GENERATOR & ECO-FRIENDLY CLEAN POWER: Build up your Portable-Solar-Generator System together with Jackery Solar Saga 90W and Jackery Explorer 290/550/880 power station (sold separately). Ideally suited for the outdoor life and even unexpected power outages.

HIGH CONVERSION EFFICIENCY SOLAR GENERATOR: High conversion efficiency up to 23%, generate more energy and perform better than conventional panels in hot weather.

SOLAR CHARGER WITH USB OUTPUTS: Equipped with 1* USB-C(5V,3A) output port and 1* USB-A(5V, 2.4A) output port, charging multiple small devices at the same time, including smart-phones, tablets, digital cameras and more. Please note that USB-C port can not support PD charging.

DURABLE SOLAR PANEL: Foldable design with a TPE rubber handle and weighs only 9.1 lbs. Convenient to carry it wherever you go. Adjust the angle with the built-in kickstand. Made from durable cloth, zipper and PET material, high-temperature resistant (The solar panel is not waterproof).

WHAT'S INCLUDED: 1*Jackery SolarSaga 100W, Solar Panel and 1*User manual.
SPECIFICATIONS
Peak Power: 100 W

Cell Efficiency: 23%

Power Voltage: 18V

Power Current: 5.2A

Open Circuit Voltage: 21.6V

Short Circuit Current: 6.1A

USB Outlets: 1*USB-A(5V, 2.4A), 1*USB-C(5V, 3A). 
Note: USB-C can not support PD charging.
Operating Temperature Range: -10℃~65℃
VIDEO
Share
View full details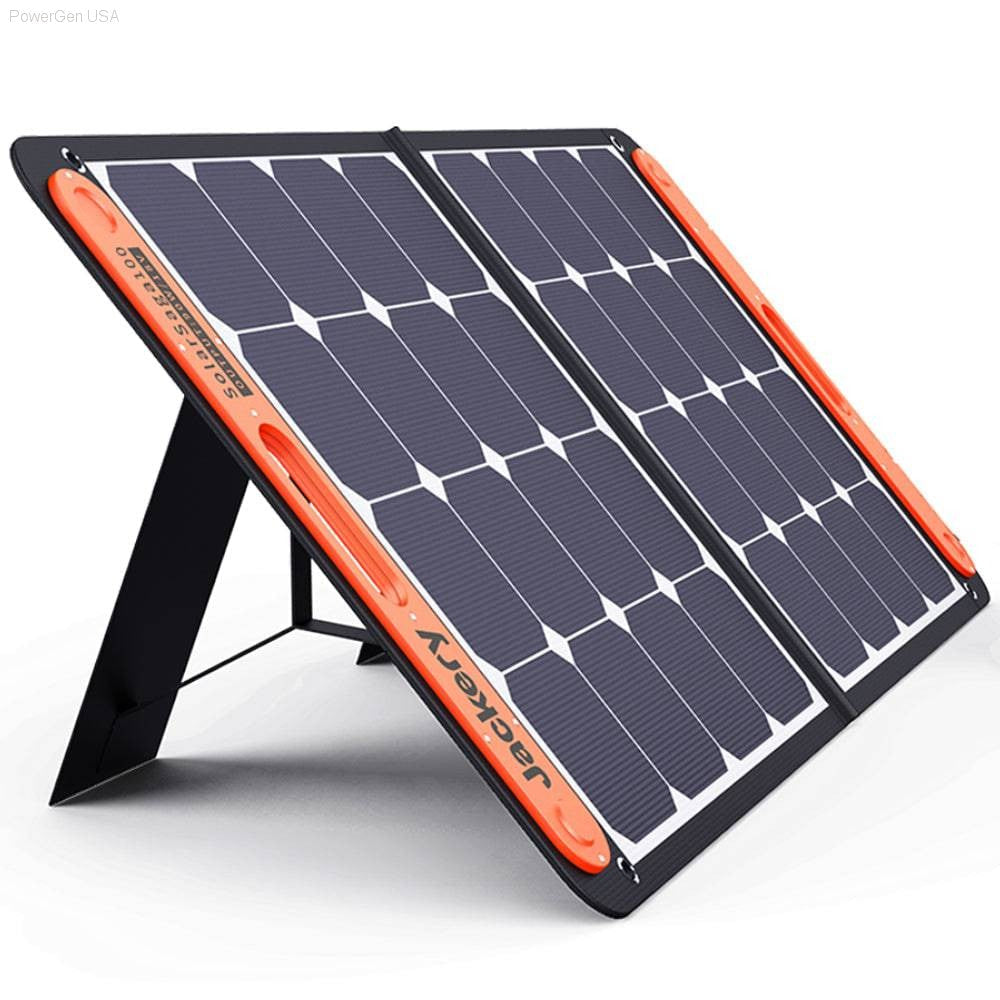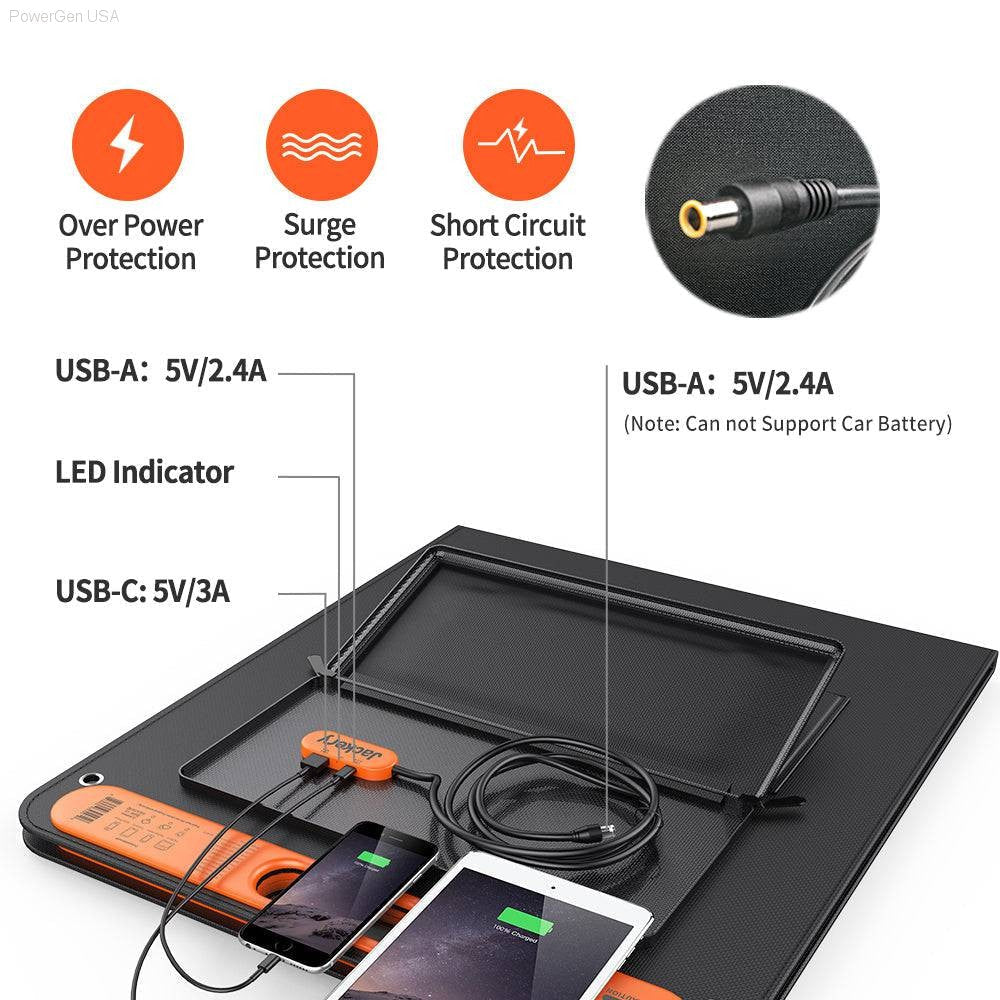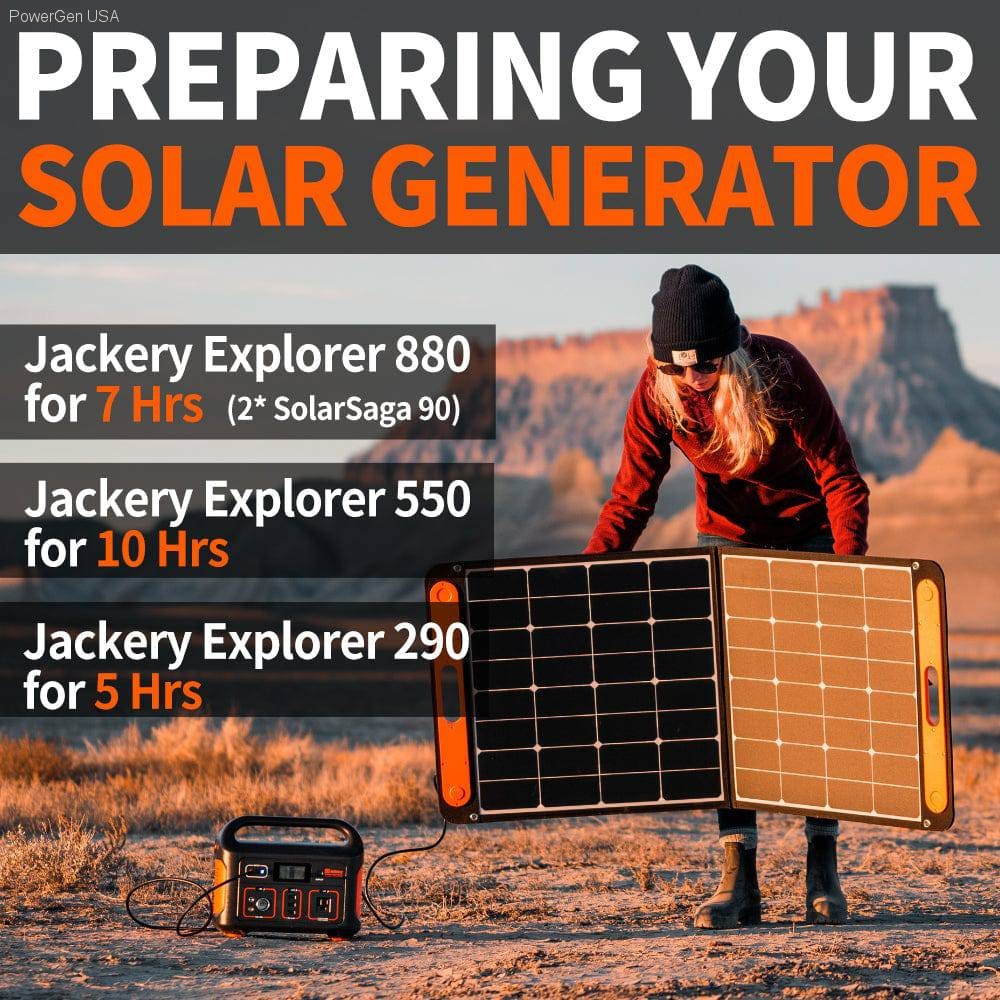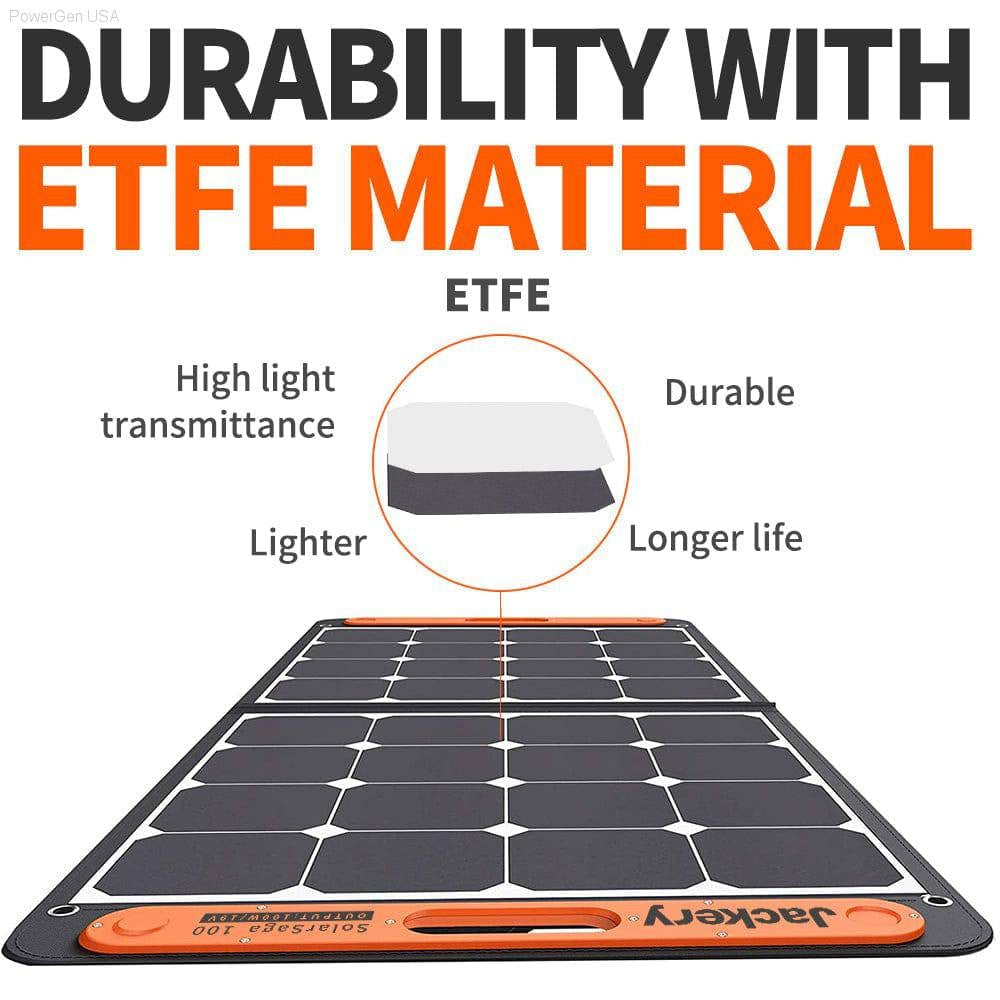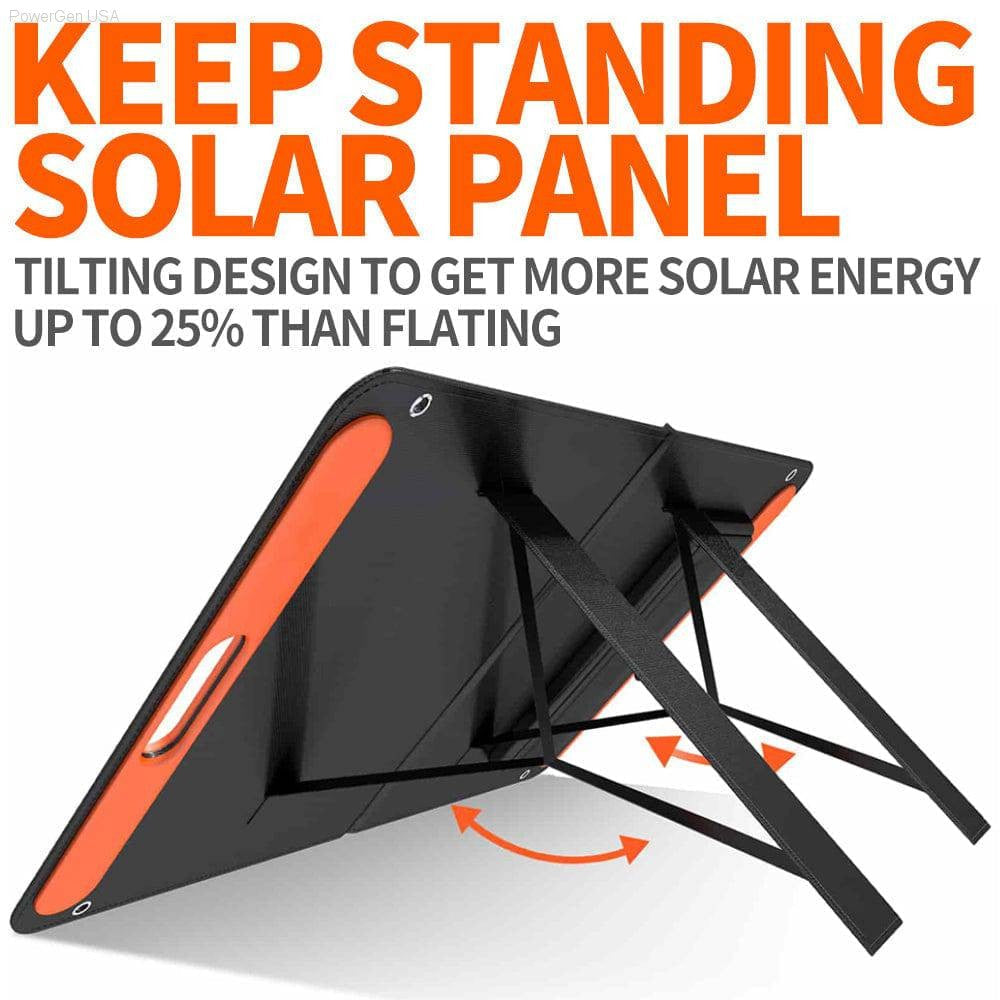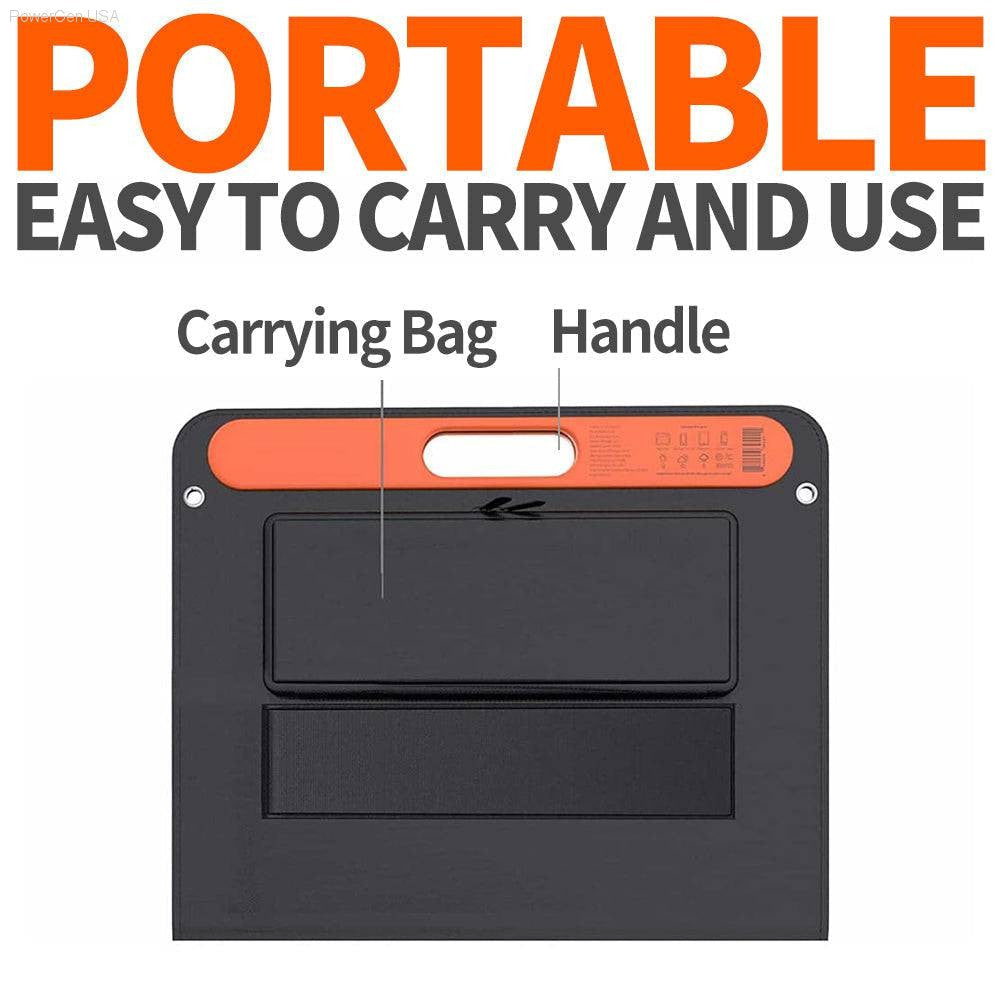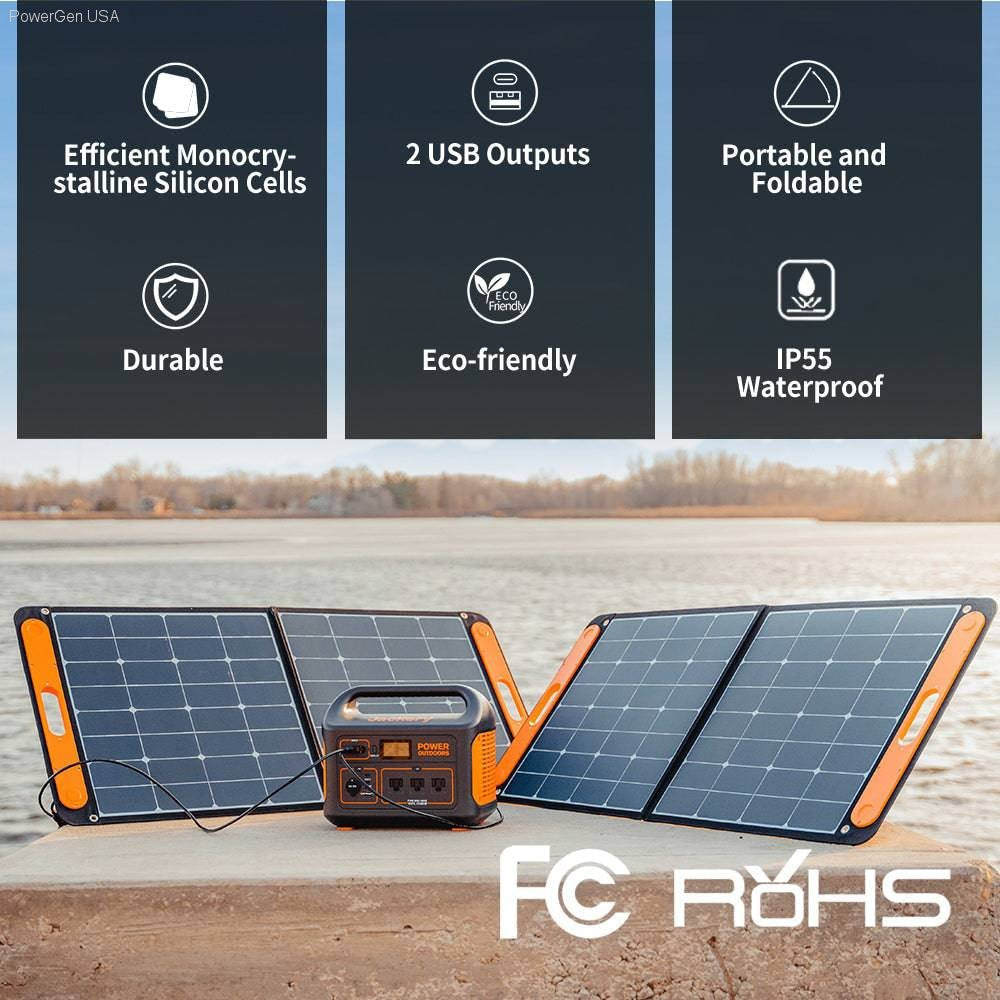 The complete package!
My wife and I use CPAP machines; until now, that meant tent camping with a generator. Having to lug a generator and gasoline around made camping too much trouble, so we quit tent camping.
A few weeks ago, I looked into solar generators. There are many products out there, and I suspect that just about any of them would work. I based my buying decision on what people are saying about customer service, ease of use, and product offerings' completeness.
I ended up getting the Jackery Portable Power Station E1000, E300, and two of the SolarSaga 100W Panels. I planned to use the E1000 Power Station around camp and to use the E300 Power Station in the tent to run the CPAP machines.
I also bought a heavy-duty 12V Y adapter and two DC power cables for our CPAP machines brand. I plugged both of our CPAP's into the Y adapter and the Y adapter into the E300's 12V port. With both CPAP's running and us wearing our masks, we were drawing around 15W.
We do not use water or the heated hose on our CPAP machines, so our power requirements are not significant. Even still, I was quite impressed; after 8 hours of use, the E300 still had 80% battery life on it. That morning, I used the E300 to charge my cell phone and tablet; it had 66%. I plugged in one solar panel and forgot about it. When I checked it 2 hours later, the E300 was back to 100%.
We used the E1000 around camp to run a couple of light strings, and in the tent, we ran a 12" fan. The next morning, after about 10 hours of running the fan and 6 hours of running the lights, the E1000 still had 66% charge left. I am sure the two solar panels would have gotten the E1000 back to 100% in pretty short order.
With one of the SolarSaga panels plugged in, I watched the charge meter on the E300. In full sun, I was getting around 95W. When a cloud blocked the sun, I got about 35W. Most of the morning was sunny, so as previously stated, the solar panel made quick work of getting the E300 back up to full charge.
Overall, I am delighted that I went with Jackery for this system. Their customer support has been excellent (I asked them many questions) and having spent a couple of days with their products, I can say that the products are better than advertised. I am a HAPPY CAMPER!!!
The perfect Solar Panel. (I paid for my panels)
I recently purchased this Jackery 100 watt SolarSaga solar panel. They say that "Ease of use promotes use." This design, with its collapsed array of 2 halves of solar panels are kept together by magnets until needed. Pure genius. You unfold them, place them on the ground while using the provided kickstands (2) and point the solar panel toward the sun. You then grab the cable with the 8mm plug on it from the zippered bag on the rear and plug it into your solar power bank. (Most will use the 8mm size, a few won't... like the brand new Jackery 1500... which Jackery provides an adapter for) Then like magic your power bank will charge your power bank at a rate of approximately 60 to 65 watts. That's typical. It does on my Anker Powerhouse II 400 but should on all Jackery Solar Power inputs as well. Videos I have seen show that. Remember to put the power bank in the shade behind the panels. You don't want to overheat your power bank. You can also charge your smartphone from usb outputs provided inside the zipped bag as well. Once done, you coil up the 8 ft cable and return it to the zippered bag and fold the solar panels back until the magnets click together. You then take your handle provided panels and put them away. Excellent design for a 100 watt, approximately 10 lb solar panel. There are many solar panels out there but I have never seen one as easy to use or transport as this one. I would certainly purchase one again if needed
Tried others, just get this panel.
I tried several other panels and output configurations hoping to save a few dollars. Three 60wt panels later (2 same brand, 1 from Camping World), under near perfect sun conditions, with other panels hooked inline... Never saw consistent usable input into my Jackery 1000.
In the end, caught a Jackery sale at 30-40% off on the 100wt Solar Saga. I have used it a few times and will consistently get as high as 110-115wt input off the panel. Which shows quality in the build. It's conversion rate seems significantly higher in hazy atmospheric conditions as well.
If you want to save money, buy the right panel first, the Jackery 100wt. or other Jackery panel needed.
Panel is well built. Just plug in, unfold and point at sun. The kickstands built in really make it easy.
Great Off Grid Charging Solution!
My brother-in-law and I are the people in the family who do in-depth research into everything we buy. Several years ago my brother-in-law recommended the Jackery 6000mAh Portable Travel Charger. Love it when he does the research for me! He said it was the best small electronics charger out there and he bought one for everyone in his family. I got one and could not have been any more pleased. Now all five members of my family each have one as well and use them all the time!
Next... I bought the Jackery AC 23200mAh Portable Laptop Charger for our laptops and iPads. Much more powerful than the 6000mAh and has an AC plug as one of the output options. Love it for using my computer outside and am constantly having to get it back from my son who uses it to power his occasional day long gaming sessions on the iPad!
Most importantly, the Jackery Customer Service has been incredible. They always respond quickly, and when one of our small chargers had a problem, they immediately sent us a new one, no questions asked!
Having such a great experience with Jackery, I decided to get the Jackery Portable Power Station Explorer 500 and it's been awesome! We live in an area where the power goes out for short periods on a regular basis, so I figured this could help us get through those times without having to deal with the mess and smell of a gas powered generator. In addition to emergencies, this is going to be a staple on our long drives, vacations, and car camping trips.
All that brings me to the Jackery SolarSaga 100W Portable Solar Panel. I was intrigued by the simplicity and portability of solar panels that could keep all of my electronics charged completely off the grid!
It actually arrived two days quicker than the estimated time when I ordered it. Unfortunately, it also arrived on a completely overcast, dark winter day, but I figured I'd try it out anyway.
Day One: 11:50 am - Connected the SolarSaga 100 to my Jackery 500 which I had purposefully run down to 0% for the test. As I said, it was completely overcast. Using the supplied Anderson Solar Cable connector, the Jackery 500 input registered between 6-16 watts and charged to 4% in 4 hours. Not too exciting, but pretty much what you would expect (or maybe even better) on a day with absolutely no sun. The first photos are from that day. Next photos are from sunny days!
Day Two: Perfectly clear full sun winter day when I connected the Solarsaga 100 to the Jackery 500 again. at 10:10 am. The input on the Jackery 500 registered between 60-70 watts and charged to 45% in 3 hours. The Jackery website says the Solarsaga 100 should fully charge the Jackery 500 in full sun in 14 hours, so 45% in 3 hours was much better than I expected! The temperature during those three hours was 48-54°F
Later in the day I set it up facing the low western sun at 3:30 pm CST. The input registered at 25 watts until I lost the sun completely behind the neighbors house at 4:00.
Day Three: Another clear sunny day. Plugged it into the Jackery 500 at 8:30 am with morning temperatures being a bit lower than the day before. The input ranged from 50-70 watts and charged the Jackery 500 from 45% to 81% in three hours. Once again, much better than expected!
The SolarSaga 100 also includes one USB-C outlet and one USB-A outlet. At 1:30 pm, I plugged my iPhone 7 Plus and the Jackery 500 each directly into Solarsaga 100 With the sun behind a leaf-less pecan tree the input registered 26-28 watts (32-33 watt input if I disconnected the iPhone). My iPhone 7 Plus charged from from 40% to 91% in 1.5 hours. Even without the Jackery 500, the Solarsaga 100 seems like a great way to directly charge cell phones, cameras, iPads, laptops, or anything else that connects with USB-C or USB-A cables!
The set-up and breakdown of the the SolarSaga 100 panels is extremely quick and simple. It opens like a book and has two stable legs that pop out to stand it up to face the sun. When you fold it together again it stays closed with the help of what seem to be a couple magnets in the corners. Since my house is surrounded by trees and other houses, I had to move it several times in order to keep it in the sun. Each time I moved it took about 15 seconds.
While I was testing the solar panel, I had several work men (who also happened to be hunters) working on a project at my house. They were all super intrigued by the SolarSaga and the Jackery 500 for future off grid hunting trips and for taking with them on their worksites to keep their power tools charged. They said they usually park their trucks in places where there's full sun and that they'd just lay the panel on the roof of the pick-up truck.
Overall great purchase. I'd very much recommend the SolarSaga 100 for its efficiency, simple clean design, portability, and durability potential. As with my other Jackery products, it's perfect for emergencies, travel, and any time you just might be away from a normal power source. Perfect back-up...
Awesome!!!!
I recently purchased my 100w solar saga and only used it once! And I love it!!!! First off it's so easy to open / lay out/ plug in and put away! Second, it's sooo light! Third, as soon and the sun hits it, it starts working. Comes w a power output to use on my Jackery e500 portable battery and also 2 USB so if I go out i can charge my phone or whatever is needed that uses usb! And keep it hiden inside it's zipper compartment. Before purchasing this I did actually contact customer service through email and they reached out by the next day. They were so helpful, caring, and solved all my concerns. I'm so happy with jackeryUSA all around! I'll buy from them again!!